Ghostly Matters
A film screening programmed by filmmaker Joie Estrella Horwitz will be held in filmmaker Dana Berman Duff's garden on October 20th at 7:00pm at 1465 Westerly Terrace, Los Angeles, CA 90026, United States. Parking is limited—carpooling or Lyft is recommended.
The exploration of landscape through the study of a fly to the audio visual discovery of childhood memory through internet archives Ghostly Matters will dissect personal histories that function as questions to larger systematic ideologies that control our present terrains. These environments span from the political to the personal and observe how memory and family lineage impact the reality of our current occupied landscapes. The films investigate lost histories that examine communal absence, questions of belonging and ecosystems of inherited traumas that are a direct reaction from colonized oppression. Each work searches over the terrain of the invisible, looking into experiences we cannot claim as our own, yet completely come to find have defined our existence.
Artists include Udval Altangerel, Edgar Jorge Baralt, Chan Hau Chun, Gabi Dao, Carl Elsasser, Cherlyn Hsing-Hsin Liu, Sarah Ibrahim, and Christina Nguyen.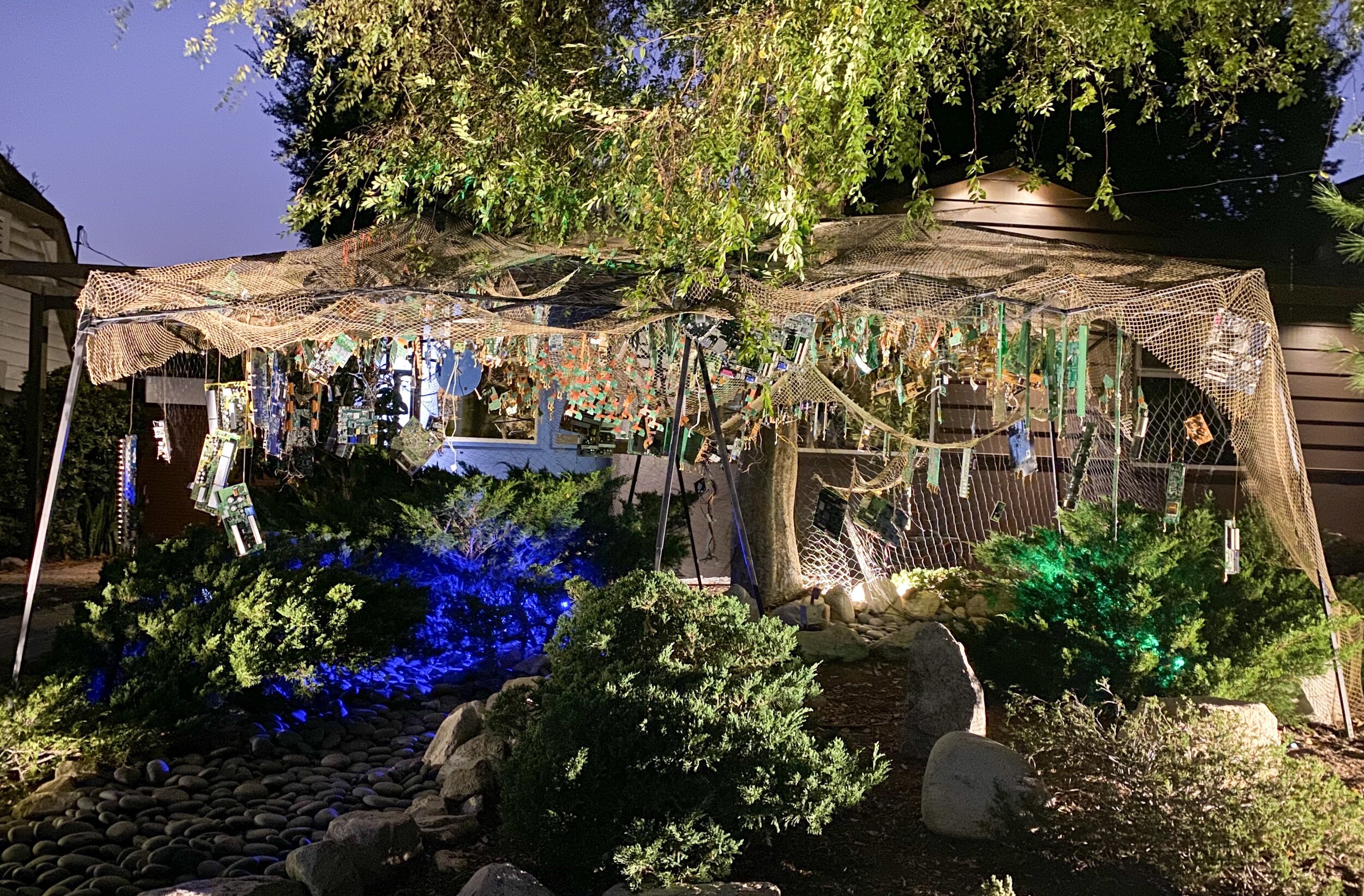 Anaeis Ohanian
66 Pounds
5117 Argus dr Los Angeles, CA 90041
There is an environment which surrounds us by the moment, every day. It is in our home, on the streets, sidewalks, and virtually all around us. The internet and technology is constantly working even when we are at rest. It is estimated that the average American disposes of 66 pounds of e-waste every year. The result of this luxury is environmental devastation.

The installation will consist of a large fishing net, that envelops a front yard. The net will also fall at the edge of the sidewalk, creating a wall. On this net, there will be 66 pounds of hung, discarded, and found circuit boards, at various heights, with the feel of a wave.

This piece will visualize the impact of humanity's tech waste by creating a physical and sublime manifestation of an otherwise banal statistic.
Rebecca Niederlander
ResoNation
3651 Mimosa Dr., Los Angeles, CA 90065
ResoNation is a multi-element overarching work that acts as a sound wave, a reverberation, a ripple on the water of action and reaction. Traveling from left to right across the front of a home, the arcs of wood catch light and energy to transport it to the viewer. All of Niederlander's works are ultimately about the processes of labor, how it gets defined, categorized, and monetized. How can we, as a creative class, ever own our exponential labor and address the need for fiscal solvency without perpetually participating in capitalism? With all the wood sourced from the scraps of woodworkers obtained after conversations with about their experiences with spirituality in their life, there is always that primal sound connection between us. Niederlander's sculptures and site-specific installations always address the individual's position within the larger intergenerational community. These labor-intense abstractions are an object lesson in both care and practice, building forms through repetition, incremental change and devotion. Curated by Association of Hysteric Curators, with thanks to Mary Anna Pomonis.